MAURITSHUIS

project type Visual identity, Editorial, Website
year 2020
The Mauritshuis is a museum located in The Hague, home to various Golden Age masterpieces. The graphic identity was inspired by the monogram created by UNA Designers in 1980. The idea of integrating the letter 'M' and the silhouette of the museum's emblematic façade, was the origin of its development. Helvetica was chosen as a way of reducing the sense of stateliness associated with these kinds of institutions, injecting a dose of youthfulness and modernity instead. The colour palette is characteristic of the Netherlands' iconic Delft's Blauw porcelain. All in all, the proposed identity provides an invigoration of a much-respected institution – a way to recognize the museum's history, while also attracting a 21st century audience.
VEGETATION UNDER POWER

project type Editorial, Visual Identity, Exhibition
year 2021
Following the Bauhaus Dessau corporate design guidelines, graphic elements were designed for Vegetation under Power exhibition.The Kreismuseum Bitterfeld, Bitterfeld's county museum, contains a black box with herbaria dating from 1931. This collection, compiled by botanist Hans Weber, is an inventory of the flora gathered in the nearby Goitzsche region, a forested area of floodplains. Taking the herbaria as its starting point, Vegetation under Power interweaves stories about Bitterfeld's energy-defined landscape with the modern legacy of the Bauhaus. The exhibition presents a landscape formed by 11 constellations: Poetics/Politics, Evidences, Sediments, Traces, Socialities, Recordings, Imprints, Extractions, Un/rootings, Stewardships, and Annotations, linking the plant collection to public debates on forest dieback, nature conservation, air pollution and growing environmental awareness, highlighting the relationship between ecology and economy. Using archival documents, interventions and field studies, the transformation of nature is related to the history of the Bauhaus. The dynamic interplay of these facts gives rise to questions about how we care for and preserve landscapes that are seemingly irretrievably lost. What does it mean to care for post-industrial landscapes? And how can we push for the renaturation of our environment today?
Photos © Thomas Meyer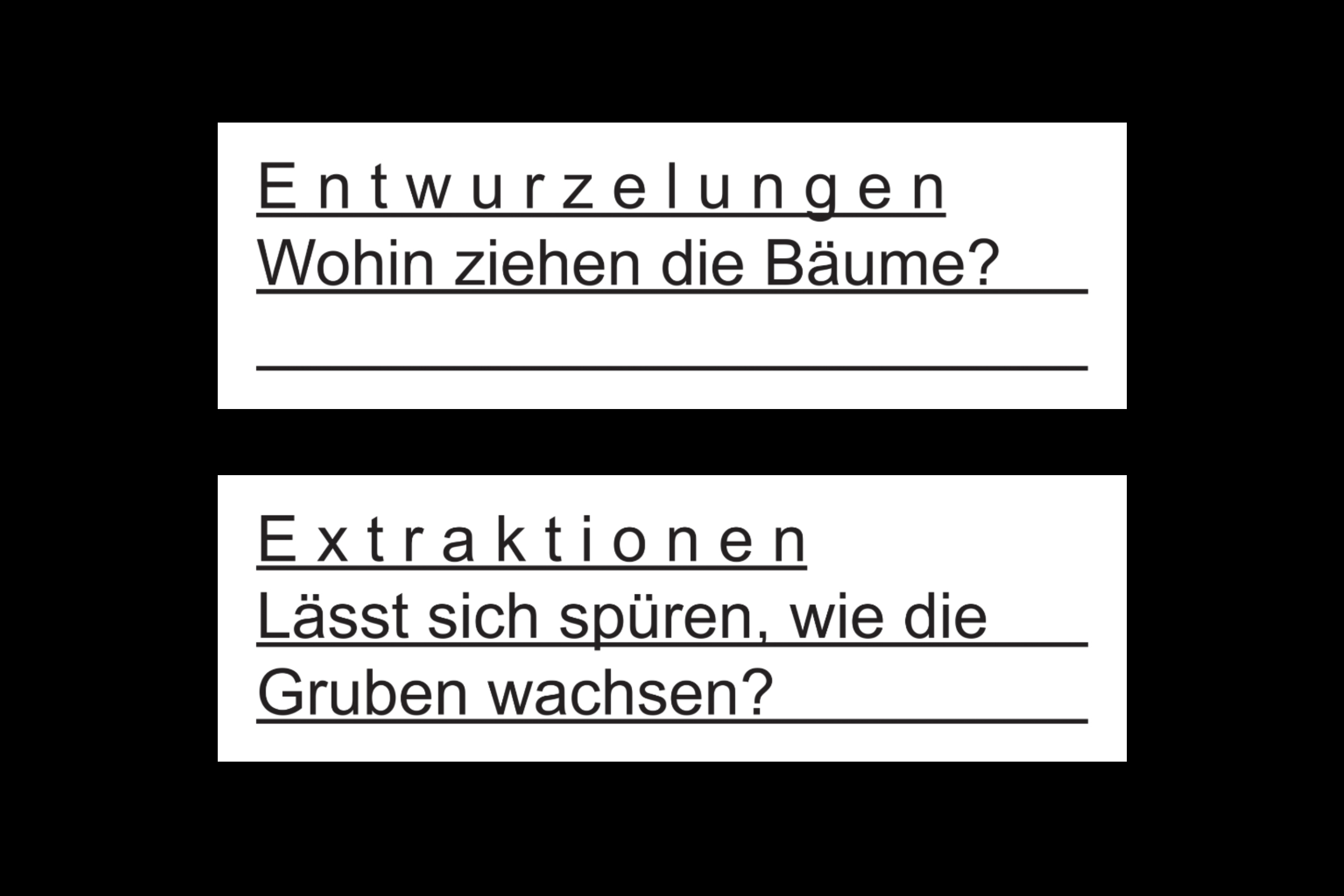 FINALLY, THINGS ARE HAPPENING
project type Visual identity, Editorial
year 2021
"FINALLY, THINGS ARE HAPPENING" was the Graduation Show 2021 of Studio for Immediate Spaces, Sandberg Instituut. The exhibition took place in June 2021 at Maison Descartes in Amsterdam.
Curator: Kristoffer Zeiner
Artists: Daphne Keraudren, Valentine Hhevah Landeard, George Mazari, Eleni Papadimitriou, perf. Group, Maria van der Togt, Diego Virgen, Mathias Vincent-Palazzi, Hannah Rose Whittle, Mariel Williams, Zane Zeivate, Jun Zhang
Visual identity in collaboration with Aleksandra Zawistowska and Stefania Rigoni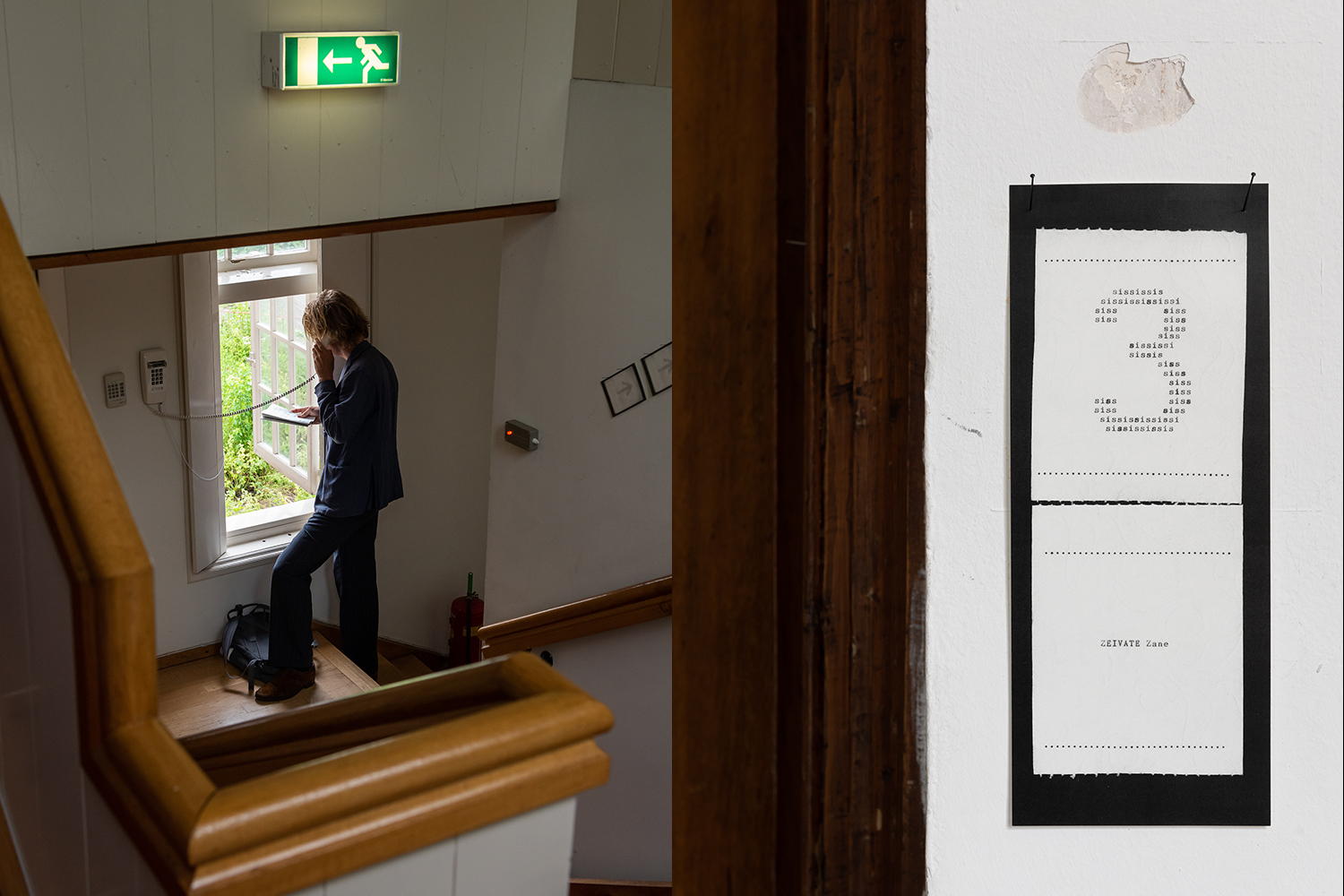 CHÂTEAU MARGAUX

project type Visual identity, Packaging
year 2020
Château Margaux is family-run vineyard in the Bordeaux region of France, whose wines are known for their fruity flavours. The identity was inspired by the work of French artist Daniel Buren, consisting of regular, contrasting-coloured stripes. A custom coding system was developed where different colours correspond to a different appellation level for each wine. As a way to grab the consumer's attention, the text on the label is intentionally small, prioritising the coloured stripes, inviting individuals to get a closer look and stand out amongst other wines.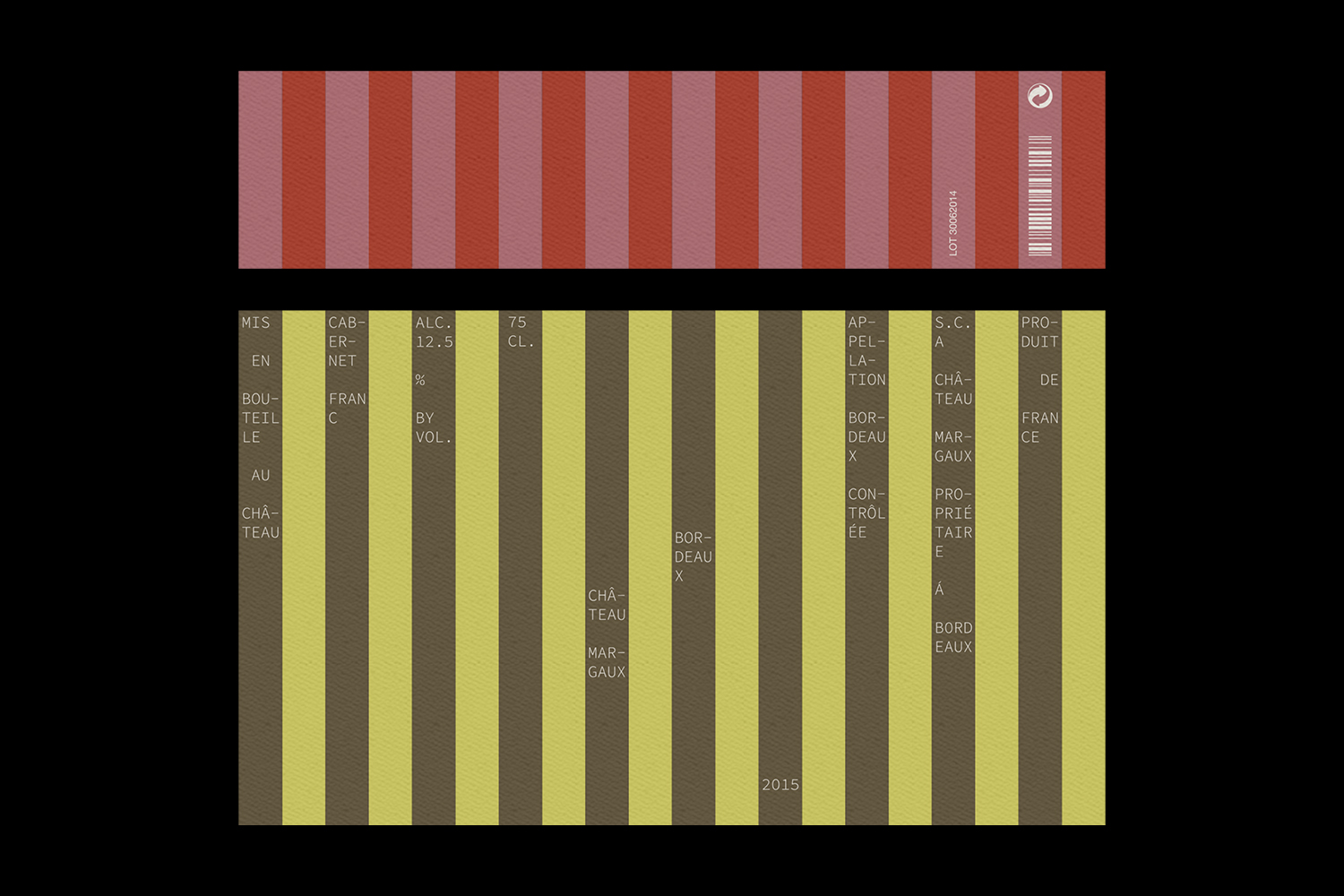 MADE IN SPAIN
project type Visual identity, Website
year 2019
Made in Spain is a multi-disciplinary platform aimed at enhancing the culture of contemporary design and avant-garde craftsmanship in Spain. Its goal is to celebrate and nurture products made by the greatest artisans and designers with international appeal. The identity was created using a simple system of straight lines and colourful dots. The rigid lines serve as a way to express the precision and expertise of Spanish artisans. The dots represent the liveliness of Spanish culture, inspired by the traditional polka dot dresses of Flamenco dancers. Red symbolises passion, while ochre stands for warmth. Univers was chosen because of its versatility and the way its different weights work together harmoniously.