THE CHRONIC WANDERING
OF DUST
project type - Site-Specific Video Installation
year - 2022


'The Chronic Wandering of Dust' was my contribution to Holding Pattern;
Sandberg Instituut's
Studio for Immediate Spaces 2022 graduation show at De Oude Rechtbank, the former courthouse in Amsterdam. This project delved into the moral narratives of dust and the mechanisms for its control. By physically interacting with cloths laden with dust extracted from the shelves of the IHLIA Heritage —the largest LGBTQIA+ archive in Europe— visitors were invited to partake in the everlasting circularity of dust. The piece was a nostalgic activation of dust, an undesirable agent that manifests itself as an uncanny physical index of history when displaced from one place to another, while having the ability of unsettling regimes of order, permanence, and control. The compulsive task of dusting served as a metaphor for the dynamics between repression and desire. A spatial dialogue between law and queer emancipation. Dust, like desire, cannot be swept under the rug. It is simply moved, not removed.
Featured in
The Salmon of Knowledge
, Our Polite Society.
YOUR DIRT, MY TREASURE
YOUR DISGUST, MY JOY
project type - Site-Specific Installation
year - 2022


This uncanny installation was devised by producing a set of critical applications, tools and situations for queer spatial agency by appropriating space through the dispersion of human saliva.
These sculptural gestures — dispersed bodily fluid in mist and the embedded screen displaying magnifying saliva — can be seen as exercises in scale that exemplify the tension between bodily fluids in relation to manufactured devices, aerial circulation in space, and defamiliarization through magnification. By using consumerism's language combined with scientific, or rather pseudo-scientific visualisations, a tactical intervention was made, relating to a broader modern scientific and medical discourse on hygiene, which historically engendered spatial segregation, and continues to do so. An intimate, yet thought-provoking spatial proposition where desire, ambivalence and transgression could be seen as gestures associated to "queer-scapes" and appropriation through forms of apparent pollution.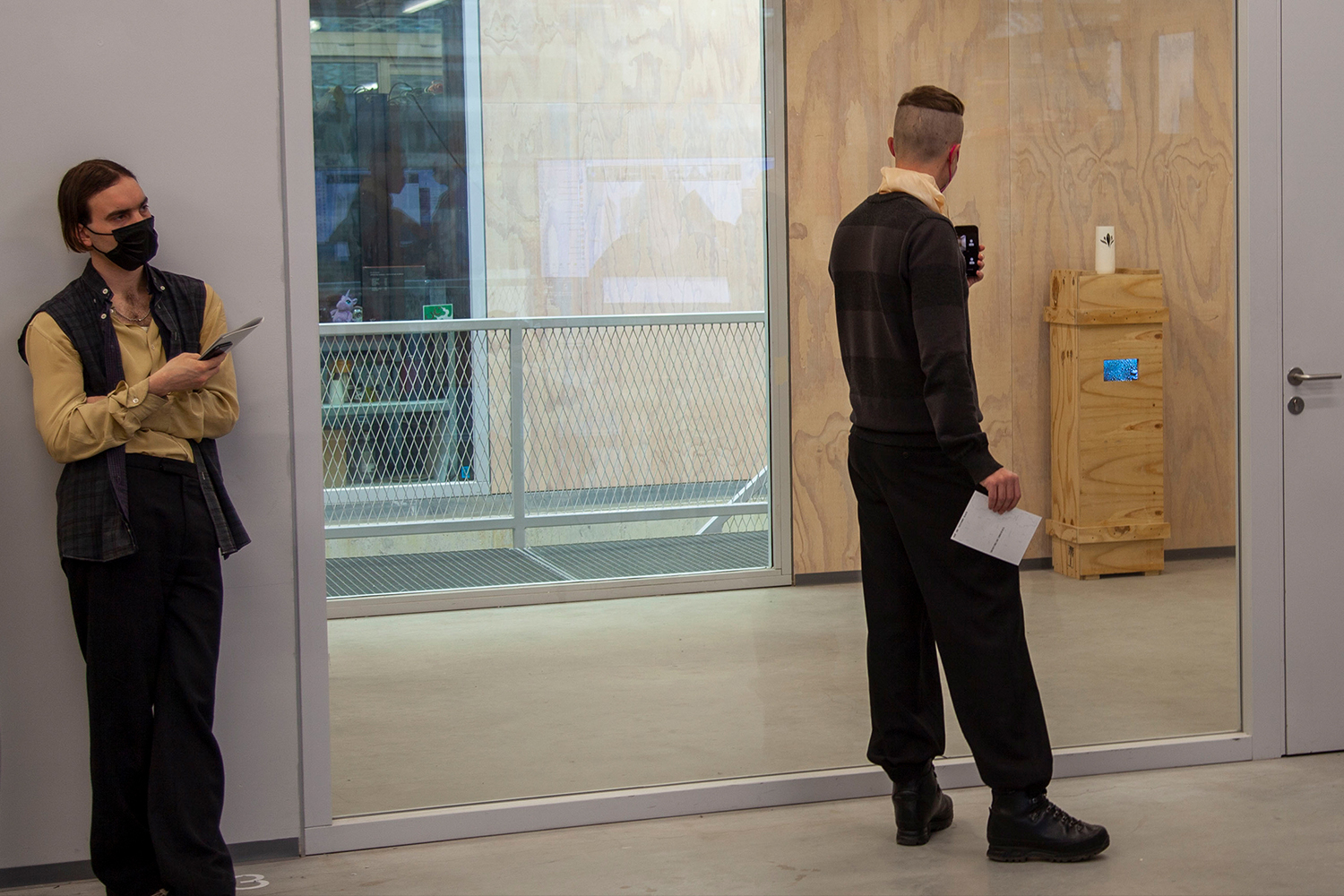 ON PIGGYBACKING, CARS
AND SQUARE TREES

project type - Site-Specific Video Installation / Film Stills
year - 2021


On Piggybacking, Cars and Square Trees
is a site-specific installation that explores from a queer gaze the multiple ways in which generic architectural sites, i.e. the carwash, and technologies of movement, i.e. the car, play a role in contributing, sustaining or sometimes subverting the reproduction of socio-cultural values and gender patterns. From a gender studies perspective, the ritualistic process of cleaning and maintaining a car can be seen as a political performance that could be considered a "feminisation of masculinity", opening a door to a new critical model of masculinity – a so-called 'caring masculinity' – which contributes to equalising gender roles and embraces the affective, relational, emotional and interdependent qualities of care.
project type - Visual identity, Editorial, Website
year - 2020


The Mauritshuis is a museum located in The Hague, home to various Golden Age masterpieces. The graphic identity was inspired by the monogram created by UNA Designers in 1980. The idea of integrating the letter 'M' and the silhouette of the museum's emblematic façade, was the origin of its development. Helvetica was chosen as a way of reducing the sense of stateliness associated with these kinds of institutions, injecting a dose of youthfulness and modernity instead. The colour palette is characteristic of the Netherlands' iconic Delft's Blauw porcelain. All in all, the proposed identity provides an invigoration of a much-respected institution – a way to recognize the museum's history, while also attracting a 21st century audience.


project type - Visual identity, Editorial

year - 2023

Want to make your brand connect to people? Brand archetypes are a way to find focus and clarity in your brand positioning. It is based upon the theory that there are universal archetypical patterns underlying all human communication.
Carl Jung translated the theory into 12 archetypes. In 2001 Carol S. Pearson (in her book The Hero and the Outlaw) used these archetypes and turned them into brand archetypes. Based on this theory, I developed this body of work for
Morrow
.